A Tribute to a Departed Missionary Saint
Marilyn Louise Mayhew, Graduated to Glory
Marilyn Louise Grove Mayhew
1949-1979-2010
Marilyn Louise Mayhew went to her new home in Heaven on September 5, 2010. She was born in Christopher, IL on January 19, 1949. She was born again as a Christian on October 30, 1979.

Her parents were Lester G. Grove and Frances I. Grove. She is survived by husband of 42 years-Ronald K. Mayhew, Milton, FL; daughter-Laura McKinney and husband Johnny, Milton, FL; son-Samuel Mayhew and wife Amanda, West Palm Beach, FL; sister-Shirley Gresch and husband Sig, Dunwoody GA; brother-Bob Grove and wife Janice, Carbondale IL; Four grandchildren-Ashley Caler, Victoria "Tori" Ware, Caden and Emmajyn Mayhew and many other relatives and friends.

Mrs. Mayhew has served as executive secretary at Faith Baptist Church in Milton, FL for 30 years through three pastors: the late Dr. E. Mac Johnson, Dr. Charles Boyd and currently, Dr. Dewey Mars. During the ministry of Brother Mac she learned what Jesus Christ had done with her sin debt and on October 30, 1979 she trusted Christ to take her to Heaven.

Marilyn has served with the Santa Rosa County Fair committee for more than 10 years. She has served as secretary of the Santa Rosa Ministerial Association, the Interfaith Jail Ministry, the American Cancer Society-Relay for Life, Home and Abroad Missions Board, WTGF (90.5 FM), Truth Radio. She was inspirational (along with Brother Mac) in founding Helping Hand Missions and more. In 1980 Marilyn earned her Masters Degree and was awarded her Doctorate Degree 30 years later.

Her services were at Faith Baptist Church in Milton, FL. Viewing was from 5:30 to 7:30 p.m. on Monday, September 6, 2010. Her funeral Service was at 10:00 a.m. Tuesday, September 7, 2010.

In lieu of flowers the family has requested donations be made to: Marilyn Mayhew Memorial, Home and Abroad Mission Board, 6423 Hamilton Bridge Rd, Milton, FL 32570; or to National Cremation & Burial Society, 5641 Highway 90 West, Milton, FL 32570.
Our Tribute to Sister Mayhew
Our family first met Ron and Marilyn Mayhew and their children in December, 1985, in Milton, Florida.
We remember so well how that at dinner, Ron and Marilyn gave us their testimonies of knowing the Lord Jesus Christ. It was a priority to the Mayhews to give the Gospel to those with whom they became acquainted, and to challenge them concerning their faith in Christ.
Her Labor in the Local Church
Marilyn Mayhew was a faithful member of Faith Baptist Church in Milton, Florida, where she served as executive secretary.
Mrs. Mayhew believed in the Biblical nature and necessity of Christian work through the local church.
Home and Abroad Missions is a ministry of the local Church, and arm of the church assisting very many churches to support and care for missionaries around the world.
We have never seen a better example of devotion to the Church and its commission to evangelize the world.
Home and Abroad Missions
After our family became affiliated with Home and Abroad Missions in October of 1986, Sister Mayhew went to work caring about the many missionary needs of our family.
She bagan to publish our news and prayer letter, THE CIRCUIT, and to manage the support funds that churches around the country sent to encourage our labors.
Sister Mayhew did this same work and much more for many missionary families over the years right up to the time of her home-going to Heaven.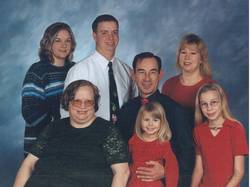 Why We Shall Miss Sister Mayhew
We thank the Lord for our sister's firm testimony for Jesus Christ as the Saviour of the World. She was an encouragement to our family in going on and contending for the faith.
When tough things needed to get done to advance our labors on the field, Sister Mayhew always took them on with sweetness and a patience to carry out with exacting detail things we could not have gotten done from the other side of the globe.
Her attitude was God-ward and Christ-honoring. When we were frustrated or in a hurry, her Christian demeanor in all things caused our hearts to more deeply trust in the watchcare of our lovely Saviour.
The Heart of a Missionary
Above is a photo of Sister Marilyn (front row) with her husband, Ron, their children and grandchildren.
The Mayhew family sacrificed a lot of time with Mom over the years while she labored to help families around the world, like ours, in carryimg out our ministries.
Sister Mayhew had a missionary heart, and was a missionary in deed!
The Secretary and The Penman
"So when this corruptible shall have put on incorruption, and this mortal shall have put on immortality, then shall be brought to pass the saying that is written, Death is swallowed up in victory. O death, where is thy sting? O grave, where is thy victory.
1 Corinthians 15:54, 55
-----
For years she kept the books down here.
But now those days are done.
We cry and wipe away a tear
For a loved one who has gone.
-----
She sent out many a letter and card,
For the sake of those abroad.
Till she reached the end of a road so hard,
And was carried on Home to God.
-----
And Heaven's Penman keeps a Book
In which her name is found.
Though now we can not take a look,
For we are on the ground.
-----
But we shall meet her in the air,
When Heaven's trump shall blast,
For now her soul doth dwell up there,
From Earth that soul has passed.
-----
Yea, we shall meet her in the air
When Heaven's trump shall sound.
For now her soul doth dwell up there
And not upon the ground.
-----
She met Her Saviour Sunday morn,
Laid down her worn out heart.
Though loved ones on the earth do mourn,
She's got a brand new start.
-----
Her pilgrimage on earth did last
Three score short years and one.
Her life up there shall ne'er be past,
But forever shall go on!
-----
And thus to this most precious one,
For now, we bid adieu.
Soon, from this earth, we too are gone,
To reunite with you.
-----
For The Mayhew Family by Danielle Patenaude